Streams
Suivez le live orchestral 'Lost In Space' de Jeff Mills en direct sur Arte Concert
Une interprétation grandiose de son dernier LP 'Lost In Space'
La rédaction
5 April 2018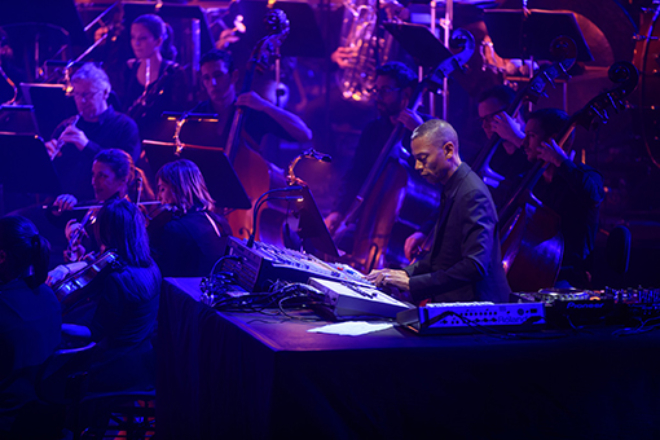 Jeff Mills s'apprête à présenter le live de son dernier LP 'Lost In Space' au Capitole de Toulouse à partir de ce soir. Accompagné par un orchestre symphonique, celui qu'on surnomme affectueusement « The Wizard » promet une nouvelle expérience sonore galactique, diffusée en direct sur Medici TV et Arte Concert demain à 20h, heure française.
Sous la direction de Christophe Mangou, Sylvain Griotto aux arrangements et Yves Pépin à la scéno, Lost in Space est la rencontre audacieuse entre un des pionniers de la techno made in Detroit et l'Orchestre National du Capitole de Toulouse. Une prestation millimétrée qui aura lieu ce soir et samedi à la Halle au Grain de Toulouse, centrée autour des thèmes de la colonisation spatiale, du choc des univers et des illusions humaines, peut-on lire dans un communiqué officiel.
L'artiste n'a jamais caché sa fascination pour l'astronomie et le futur, des motifs récurrents dans ses productions. Il s'est d'ailleurs récemment associé à la NASA pour la série 'Jeff Mills : The Outer Limits' ; un projet musical qui explore les complexités de l'espace et du temps, diffusé sur la radio underground londonienne NTS. Son dernier album Planets était également inspiré de l'univers cosmique et technologique.

Jeff Mills a été élevé au rang d'Officer des Arts et des Lettres pour ses contributions aux domaines des arts en France. Dans une interview récente parue sur le blog de la fabric, il confiait sa vision intéressante de l'avenir de la production, l'intelligence artificielle et les nouvelles formes hybrides de musique électronique.
Retrouvez une série de clichés illustrant la trajectoire de la carrière de Jeff Mills ici.
Load the next article