En bref
Le Wu-Tang Clan sort son prochain EP vendredi
Inspiré de leur série documentaire Of Mics and Men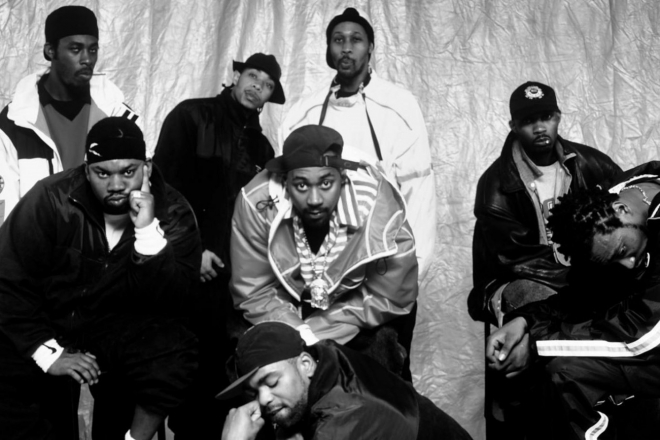 Cette année marque les 25 ans de la sortie du cultissime album Enter the Wu-Tang, et le légendaire crew new-yorkais est bien décidé à lui faire honneur. Un nouvel EP est prévu pour vendredi prochain, le jour de la date française de leur tournée 'Gods of Rap', où ils partageront la scène avec Public Enemy et De La Soul.
Ce prochain album sera inspiré par leur série documentaire Of Mics and Men, réalisée par le producteur, réalisateur, écrivain et chroniqueur hip-hop Sacha Jenkins. Avec des interviews du groupe illustrées d'images d'archive, ce documentaire relate l'histoire du groupe.
L'EP du même nom sera leur première production au complet et destinée à commercialisation depuis
A Better Tomorrow
en 2014. En 2015, l'unique exemplaire de leur double-album
Once Upon a Time in Shaolin
a été vendu aux enchères pour 2 millions de dollars et acheté par le controversé businessman Martin Shkreli. En 2017, ils sortent
The Saga Continues
, avec la contribution de tous les membres vivants du groupe sauf U-God, et de leur DJ et producteur de longue date Mathematics.
You've seen episode 1/ Wu documentary by now (and if you haven't, what were you doing last weekend), now listen to the music inspired by the series. On Friday, we're coming with a new Wu-Tang EP from @36ChambersALC and Mass Appeal, so let your boss know you'll be in late to work. pic.twitter.com/9tPXfDnWVv

— Wu Tang Clan (@WuTangClan) May 14, 2019