En bref
Varg, Vixen, Umwelt sur une compilation en soutien aux résistantes kurdes du Rojava
Les recettes iront à la Fondation de la femme libre au Rojava
Camille Sarah Lorane
4 February 2020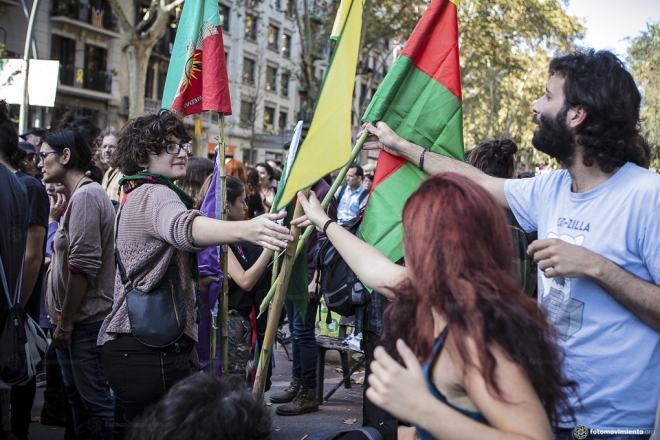 Oramics et Kashev Tapes publient une compilation en soutien à la résistance kurde au Rojava, une société autonome située dans le Nord de la Syrie. Les recettes iront à la Fondation de la femme libre au Rojava. Prévue pour le 10 février, Sonic Resistance comprend 91 titres. Les artistes incluent Olivia, Eomac, Via App, ANFS, Melania, Ngly, Doc Sleep, Black Acid, Xhin, DON'T DJ et Varg.
Tous les profits seront reversés à l'une des rares organisations dirigées par des femmes du Rojava, Foundation of the Free Woman in Rojava (Weqfa Jina Azad a Rojava).
La compilation entend protester contre le régime militaire turc. À la suite d'une série de violences ciblées, les forces du pays sont rentrées en conflit au Rojava l'année dernière. L'album cherche à faire connaître la révolution kurde dans la région, un mouvement de liberté prônant l'égalité des sexes, les droits LGBTQAI +, l'écologie, la durabilité et le confédéralisme démocratique.
Comme l'explique Kashev Tapes « La guerre contre l'égalité et la liberté est une guerre contre nous tous. »
En 2019, Oramics s'est associé à New York Haunted pour sortir une compilation de 113 titres en solidarité avec la communauté queer polonaise, mise à mal par une vague de violences homophobes sans précédent.
Pour soutenir le mouvement, direction Bandcamp.
Tracklist

01. 2-5-5-0 - Eschew
02. Aleksander Jagodziński - Moloch
03. Allreal - Spectres Of Maxim* (Bijî Bijî Rojava)
04. Anfs - Imantas
05. Anna Bolena AKA G.a.z.a. - Female Is Now
06. Apoist - Biji Berxwedana Rojava
07. Artificialparadise - Rotten Hope
08. Black Acid - Quantum Criticality
09. Black Seed - 9'38''
10. Blegrami - Vaptisma
11. Broken Promises Crew - Resistance Is Life
12. Cco - Mutual Induction
13. Chaton_satan - Tout Compris
14. Cryptic - Makatamia Loop
15. Cybermission - *_*hopes*_*
16. Dawn Mok - You Won't Rest Until You're One Of Them
17. Deepneue - Freedom On A Frame
18. Dj Ketaflush - 160219rcx96 (Og Mix Cassette)
19. Dj Loser & Penelope's Drama - Synesthesia Triggerer
20. Dj Valentimes - Incoherence
21. Dj Warzone - Derdo
22. Doc Sleep - Motif
23. Don't Dj - Swarm
24. Dr Dilar Dirik In Agf Mix - This Is Our Red Line
25. Dr Rey - Aftercare
26. Duy Gebord - Neurotic Electronics 33⅓
27. Dzuma - Robots
28. Elijah - Druidic Dance
29. Eomac - Lonely Posting
30. Fana - Kîne Em
31. Feyz - Farz
32. Foql - Snob Shelter
33. Gael - Loads Of Love
34. Ghorba - Out Here
35. Golpe Erotico - That Which Is Not Born Nor Dies
36. Helena Markos - Pecata Nostra
37. Hit͟hərˈto͞o - Archipelago
38. Isnt - Bird In The Cage
39. Jaguar On The Moon - Under Repression
40. Johannes De Leysen - Crops
41. Jokasti & Nek - Koraki
42. Jolly - Xelox
43. Kloves - Get Around
44. Legion Seven - Badbadbad
45. Luke Lund - Chimeri
46. Lumpex - Silence Is Death
47. Lyzz - 120 Days In Salem
48. Madeleine Bloom - Volcanoes
49. Marco Segato - 37°03′n 41°15′e
50. Mateo Hurtado - Corrupted Systems
51. Max Durante feat. Federico Leocata - Freedom Has No Sex (Max Durante's Brain Mix)
52. Melania . - Liberate
53. Molekühl - Roh
54. Nadia D'alò - Footfall
55. Nebuchadnezzar - An Oath On Salt
56. Neu Verboten - Run .exe No Cmd
57. Ngly - Untitled
58. Nicola Kazimir - Bells Of Doom
59. No I Don't With Tra & Taimashoe - Ololyga (High Pitches In Resistance)
60. Non+ - Stepout
61. Nordra - Unison
62. Nur & Crève-chiens - Kiru
63. Nvrs - Because
64. Nvst - Sankt Prex (Autohifive Under The Surface Mix)
65. Olivia - She Is Alone
66. Penelope's Fiance - At The End Of The Day, Noone Remembers Their Names
67. Pink-187 - Dangerous Liaisons
68. Poly Chain - Elon Musk
69. Productid - Shadows
70. Purpura - Kali Minds
71. Redrew - Autumn (Seasons)
72. Rosa - Gelbrotgrün
73. Rune Bagge - Blind Eye
74. Sch_tsch - Rerere
75. Semka - Burialblade
76. Strahinja Arbutina - Tonda
77. Tapiwa Svosve And Tina Reden - Polyrisings
78. Terrorrythmus - Psy Drop
79. The Allegorist - Pulsing Veins
80. The Dag - Btches Get Revenge
81. Umwelt - Future Darkness
82. Unprofessional - Uncanny Valley
83. V.v.i.a. - Alone With Everybody
84. Varg2tm - Untitled
85. Via App - On The Shore When It Hits
86. Vixen - Rat King
87. Wallis - Searching For Dailight In Pitch Black Night
88. We Will Fail - 216
89. Xhin - Tanarp2-1
90. Yanozoto - Resilience
91. Zoë McPherson - Ishtar #2 (For Rojava) feat. Gernas Maao
---
Crédits :
Image en une : Fotomovimiento - licensed under CC BY-NC-ND 2.0